---
When interior designer Sally Sirkin Lewis was unable to find contemporary, quality furniture for her clients that met her exacting standards, she decided to start her own company.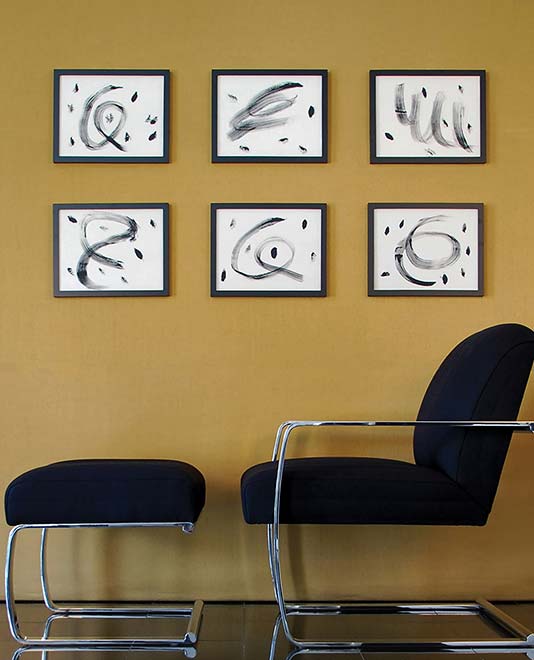 J.Robert Scott 'Fontaine' wool-upholstered lounge chair and ottoman.
In 1972 she became the first woman to open a showroom on Melrose Avenue in the design district of Los Angeles when she established her luxury textile and furniture company J.Robert Scott. It has since grown to comprise showrooms in New York, Los Angeles, Chicago and London and stockists around the world in cities including Paris, Melbourne, Berlin, Athens and Madrid.
A pioneer of the "California style" of clean, modern design, Lewis has amassed over 150 design patents while remaining true to the minimal, timeless aesthetic that has defined her furniture and textile designs since the company's inception. "It's very clean, understated and on the luxurious side," says Sirkin Lewis. "The type of furniture we manufacture is contemporary but with soft edges. A lot of people think of contemporary as being hard edged and square, but I've always loved the softness of the furniture I design. I love beautiful fabrics, and I think things have to feel good as well as look good."
But while her sensibility may be understated, right from the very beginning Lewis took an unorthodox approach to textiles design. Spurning traditional furniture textiles outlets, she instead shopped at men's suiting companies on New York's 7th Avenue in the early 70s, feasting on tweeds, pinstripes, and glen plaids woven of fine worsted wools for use on furniture and as wall coverings. "I love using wool in my interior design projects," says Sirkin Lewis. "Wool has no seasons and its durability is unsurpassable. Wool is forever."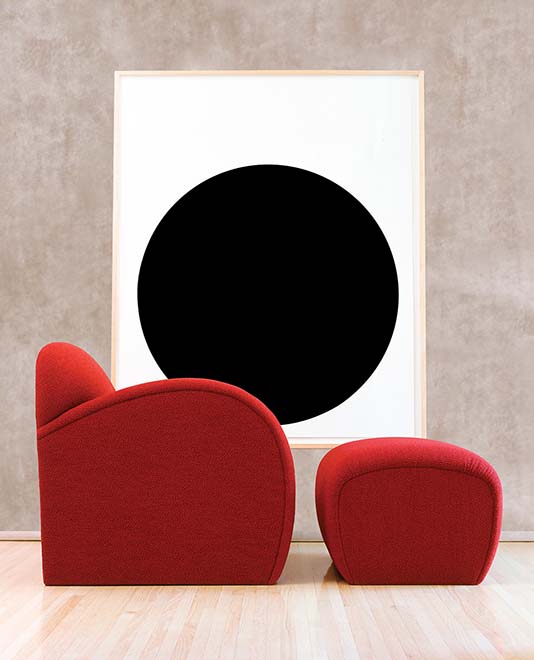 A wool-upholstered chair and ottoman from the J.Robert Scott collection.
For over 40 years she has nurtured relationships with more than 72 mills in 18 countries to develop more than 900 signature textiles in a variety of textiles, weaves and weights. "Whether it be 100% wool or blended with silk or other fine fibres,
it must always have a smooth feel to the skin, and offer great visual appeal," says Sirkin Lewis. In line with her passion for wool textiles used by the fashion industry, Sirkin Lewis has been influenced by the world of fashion, in particular haute couture, since the beginning of her career. She uses techniques from dressmaking in her approach to interiors and has designed gowns using J. Robert Scott textiles to demonstrate that they are worthy of prêt-a-porter.
Employing a design approach Sirkin Lewis calls "home couture" means every piece can be tailored to fit individual bodies, homes and lifestyles, and needs ranging from residential, corporate and hospitality to yacht and aircraft interiors. The engineering department at J. Robert Scott modifies and adjusts existing furniture items for individual clients and can also custom design any piece a client requires. All of the furniture is made by hand in a factory in Ingleside, California, which employs more than 100 craftspeople, many of whom have been with the company for over 20 years.
Now president and chairman of the company, Sirkin Lewis still oversees all textiles, furniture and lighting design personally, as well designing interiors for international clients from Japan and Moscow to Bangkok and Provence. "I'm sort of chief cook and bottle washer," she says. "Ninety-nine per cent of what we produce I design myself."
Locating the production department and the factory within one building means designs can move seamlessly from prototype to production as soon as inspiration strikes.
"My inspiration for design comes from everywhere," says Sirkin Lewis. "If it's textiles it can come from the bark of the trees I see while walking my dogs and I've used the spices from my spice collection for another textiles collection called Spices."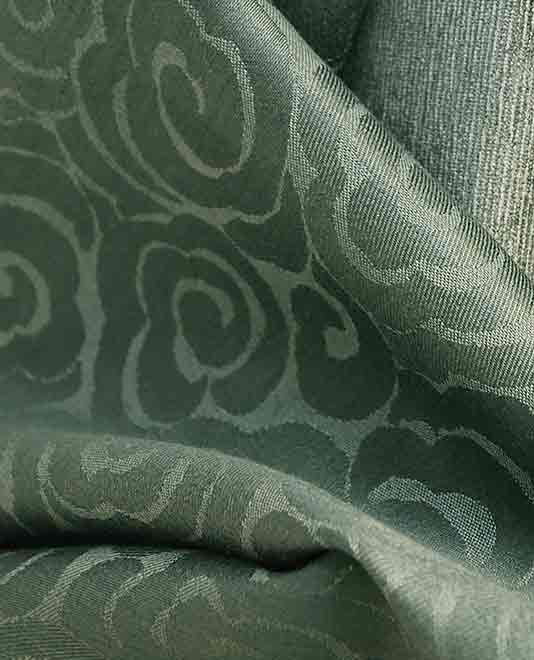 Caption: J.Robert Scott's new 'Grotto' fabric collection, made up of wool, silk and linen.
Sirkin Lewis began her career in the late 1950s working as a design assistant to Henry End in Miami, Florida. She then moved to New York as a freelance designer for corporations and fashion showrooms until the late 60s, when she relocated to Los Angeles and founded J.Robert Scott & Associates. The company's name is a combination of names of Sirkin Lewis and her husband Bernie Lewis's six children, all from previous marriages, reflecting her inclusive, family-focused approach to the company of which her husband is CEO.
Despite her low-key business style, Lewis enjoys a celebrity status on the international design scene, which with several notable exceptions is dominated by male stars.
Celebrity clients include Ali MacGraw, Steve Lawrence and Eydie Gormen, and Sirkin Lewis was anointed by former Architectural Digest editor Paige Rense to design her office and home. The appointment by Rense, a high priestess of the design world, reflected the perfectionist approach Sirkin Lewis has taken since her career began. "I've always wanted to be the best," she told the Chicago Tribune. "Being second-rate won't do. I laid out my path 30 years ago. When I was in my 20s I thought that someday my face would be on the cover of Life magazine. I didn't make Life, but I did make Architectural Digest."
Sirkin Lewis is particularly proud of the Ombre furniture finished she introduced in 2010, named for the proprietary technique that imparts a smooth, transparent gradient of colour to the surface of wood veneer. The technique came from her fondness for watercolour, and each piece of Ombre is as unique as a fingerprint. Sirkin Lewis signs each Ombre piece herself, as part of continuing mission to create "furniture as an art form".
Of all of the elements of interior design, she says fabric provides the greatest opportunity for self-expression, and Sirkin Lewis relies on wool in particular to fulfil her aesthetic and technical requirements. Synonymous with restrained elegance and extraordinary quality, a J.Robert Scott design is an interiors acquisition for life.