---
The Gudbrand Valley in Norway is surrounded by snow-capped peaks and breathtaking national park, and is renowned for its abundance of flora and fauna, lush pastures and rich cultural heritage. Known as "the king of the valleys", its forests, watercourses and mountains are home to alpine skiing, fishing, hiking and hunting – and to one of the finest woollen mills in the world.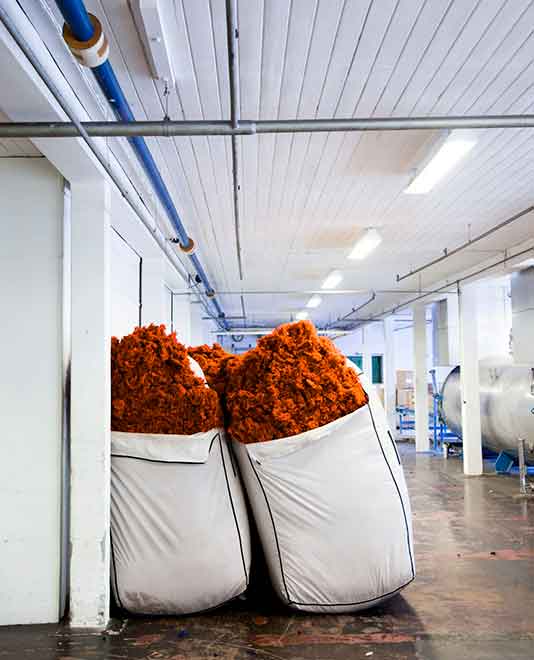 Yarn photo Kirsti Hovde. Wool yard cone are stored in wooden boxes to avoid humidity.
Gudbrandsdalens Uldvarefabrik was founded in the Valley in 1887 as a humble commission woollen spinner situated below the Mesna waterfalls but soon grew to become a corner stone company in the town and an important contributor to the Norwegian economy. Its founder Bernt Otto Johnsen was an ambitious and highly driven man who put much of his energy into the business but was also a lay preacher throughout the region. The combination of hard work and higher goals paid off swiftly. By 1898 the mill had become a fully vertically integrated woollen mill and changed its name to Gudbrandsdalens Uldvarefabrik. The company was sold to Andreas Rasmus Svarstad in 1912 and is today owned and run by the fourth generation of the Svarstad family, who remain the custodians of one of the leading manufacturers in Scandinavia.
In the same way Ikea is based on Scandinavian values, the German car industry on the German ideal of quality and Apple in Silicon Valley on the area's passion for new technologies, Gudbrandsdalens products reflect their own unique culture and origin. Gudbrandsdalens assigns Norwegian names to its textiles based on Norwegian "dals" or valleys, nodding to the Norwegian roots of the company and its intrinsic connection to the Scandinavian furniture and design tradition, which peaked in the 1950s and 1960s.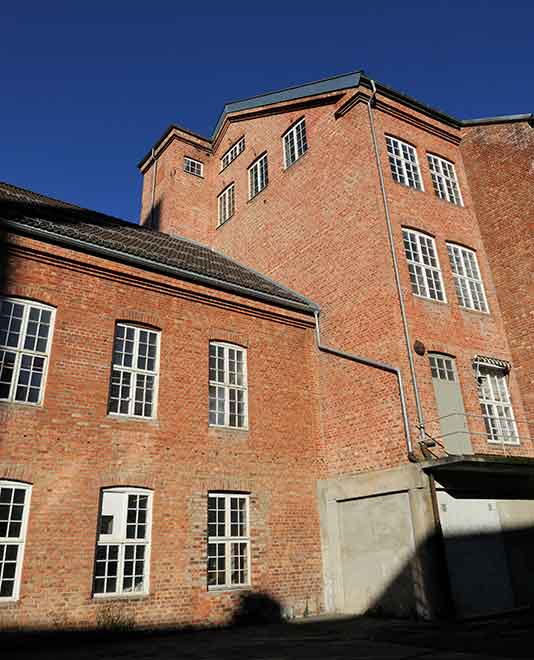 The oldest part of the GU factory, dating back to 1887.
The company's upholstery fabrics are renowned for their textures, colours and unrivalled quality, which is based on exploiting and developing the myriad exceptional properties of wool. Over 120 years Gudbrandsdalens has amassed a fulsome knowledge of wool through each stage from wool growing to finishing the final fabric, contributing to the company's leading position in the market.
As the only vertically integrated manufacturer of furniture textiles in Scandinavia, every process enhancing the natural beneficial qualities of wool is undertaken in the Lillehammer factory.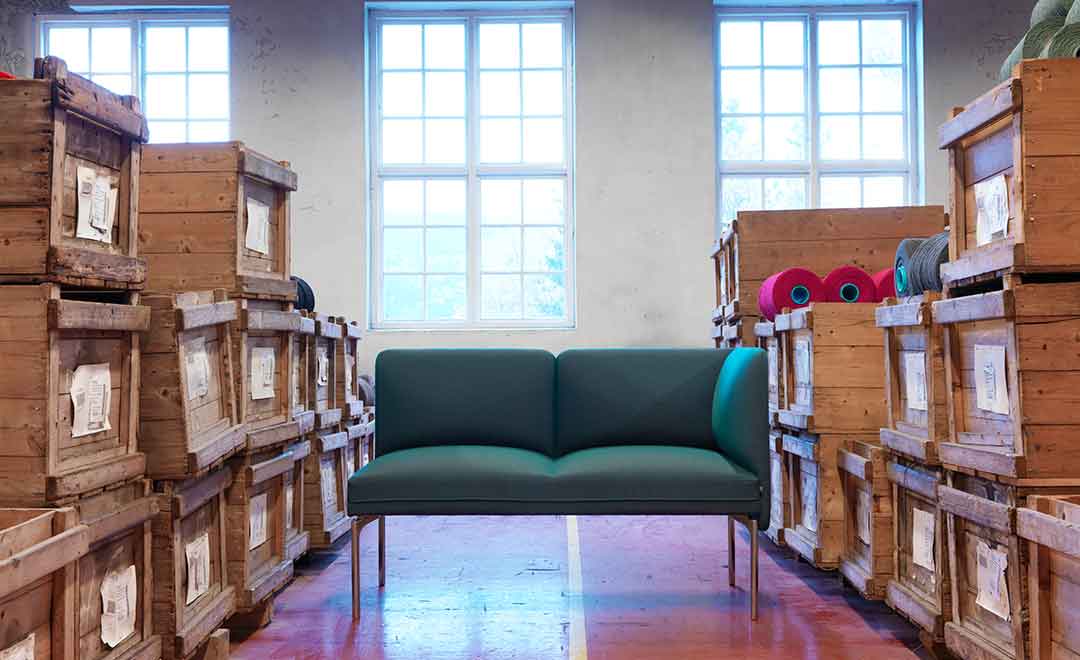 GU manages all processes, from the dyeing and spinning of yarn to weaving and finishing, under the same roof in its factory in Lillehammer, Norway.
From the dyeing of fibres, spinning of yarn, weaving and various finishing processes, Gudbrandsdalens is able to enhance the natural texture and tactile properties of wool entirely in-house, leading to unique modern designs that retain wool's raw appeal.
With full control of all stages of the production, the company can develop and produce startlingly original textiles with singular colours, patterns, structure and technical characteristics. Production is highly modern and flexible, with a colour palette that offers almost limitless choice and in turn the ability to create countless custom designs.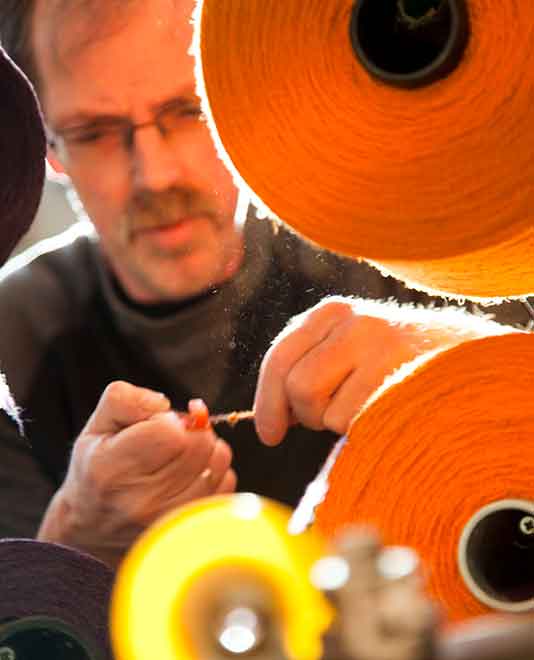 A worker threads wool yarn in the manufacturing facility.
While the process from raw material to finished product is fundamentally similar to how it was a hundred years ago, technical developments have enabled Gudbrandsdalens to push its passion for wool even further. To retain its place as a textile leader, the company invests in new machinery and equipment, and in the education of its staff as to the newest and best ways to work with wool.
Gudbrandsdalens employs in-house designers but also works with a wide range of international designers in areas such as architecture, graphic design, art, interior and clothing designers to create new collections and foster continual innovation.
In 2002 the company collaborated with celebrity designer Torbjorn Anderssen, who at the time was working as a designer in the design group Norway Says. The outcome of the collaboration was the fabric Odal, a so-called "love-hate" product because of its rough texture and strong colour character. Odal was awarded the prestigious Honours Award for Design Excellence by the Norwegian Design Council in 2003 and since its launch has been one of the best-selling designs at Gudbrandsdalens. The factory has a long history of supporting young designers, both through sponsorships and through facilitating the development of textiles, and also produces fabrics that are used in traditional Norwegian national costumes.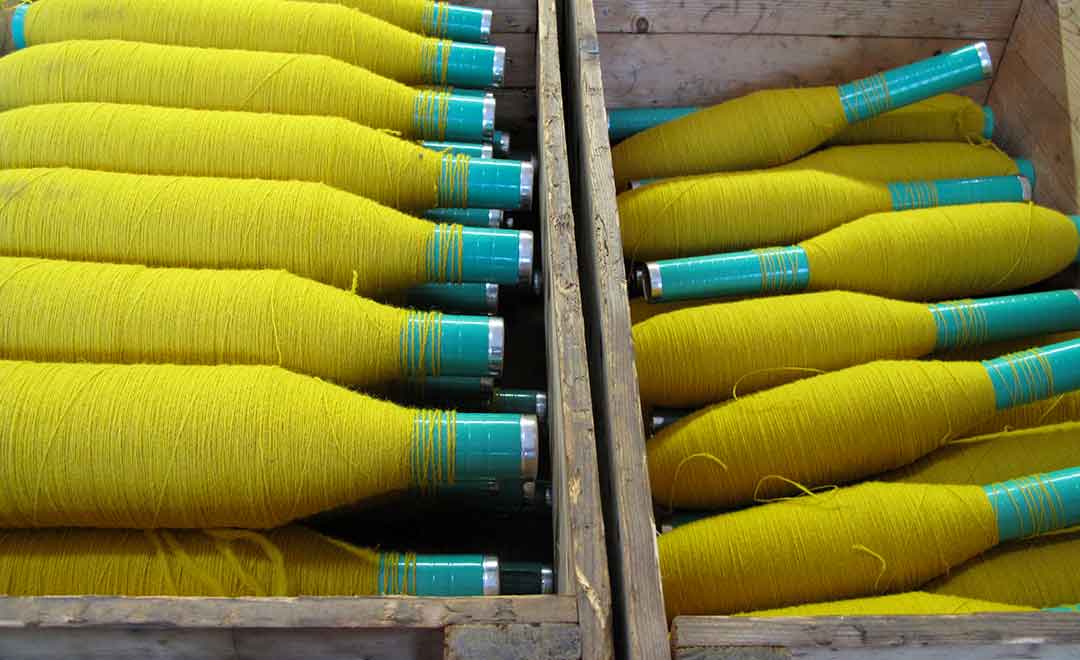 Wool yarn ready for weaving.
Gudbrandsdalens also works within the contract and transport markets, with leading furniture manufactures, ship and land architects and outfitters among its clients, along with the healthcare sector and with cinemas, hotels and conference centres. In many of these sectors safety is critical, which is where Gudbrandsdalens relies on the ability of wool to be imbued with flame retardant and waterproof properties, adding to its washable, highly durable appeal. Gudbrandsdalens is now among the largest producers of wool based upholstery fabrics for ships, including both standard and special designs. The company is proud of its eco-credentials – wool is a natural resource that is biodegradable – and also promotes the use of wool for its high levels of comfort. Wool feels warm when it is cold, absorbs moisture vapour well and is highly resistant to odours. Wool also feels comfortable in warm environments and dust and dirt can be easily removed.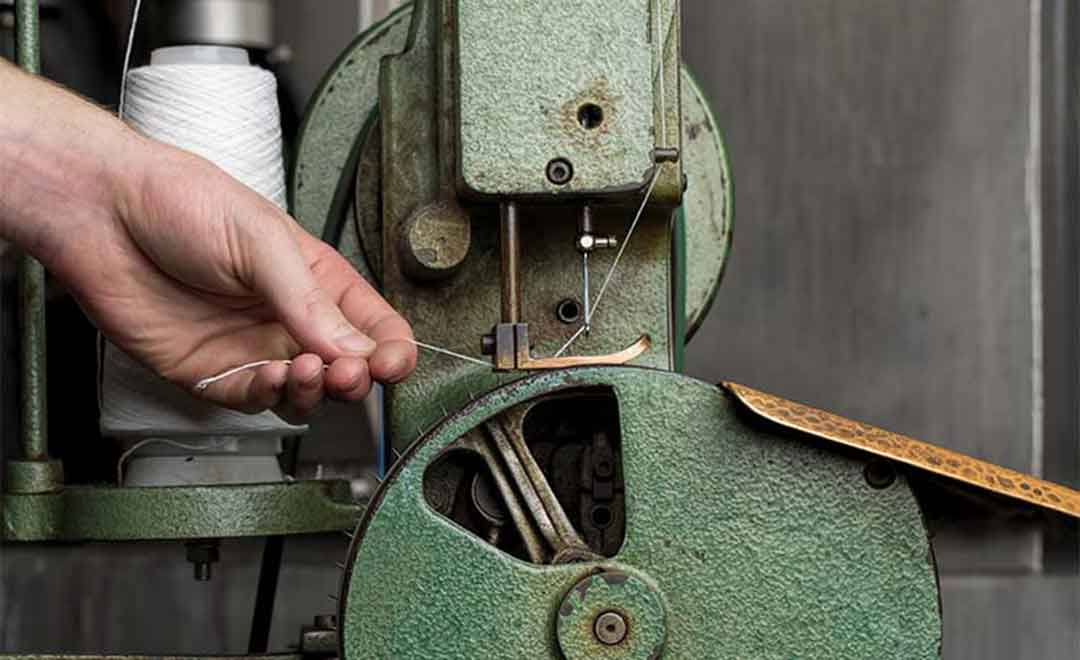 An old sewing machine, now replaced by modern equipment.
Where other companies in Norway have suffered in recent times due to cost pressures, Gudbrandsdalens is among those that are not only surviving, but thriving. Industrial designer and professor of industrial design Per Farstad attributes the company's success to five key elements: technological quality, functionality, efficiency, design that touches the soul and a conscious relationship with its customer. To that list must also be added the beauty and versatility of wool.