---
Pitti Uomo 93, January 9-12 in Florence, was full of energy and ingenuity, with a 2.5% hike in visitor attendance, drawn to experience international menswear ranges for 2018/19, as Janet Prescott reports.
Pitti Uomo 93 was an exhilarating mix of traditional high-quality men's fashion, from exquisitely tailored suits from Naples, to hand-crafted accessories with edgy ideas from designers delighting in pushing the boundaries with casual, street-credible outfits and an edgy urbanism.
Top trends included trapper looks with faux fur, suede, chunky knits and down-filled jackets, suave classic suits - sometimes unlined to be layered with outdoor looks - dark unicolour knitted seafarer's clothes and ribbed accessories. With the growing mood of ungendered clothes, there is a coming together of colours and fabrics in all sorts of different forms, all of which had been signalled by The Wool Lab's sourcing predictions for the season.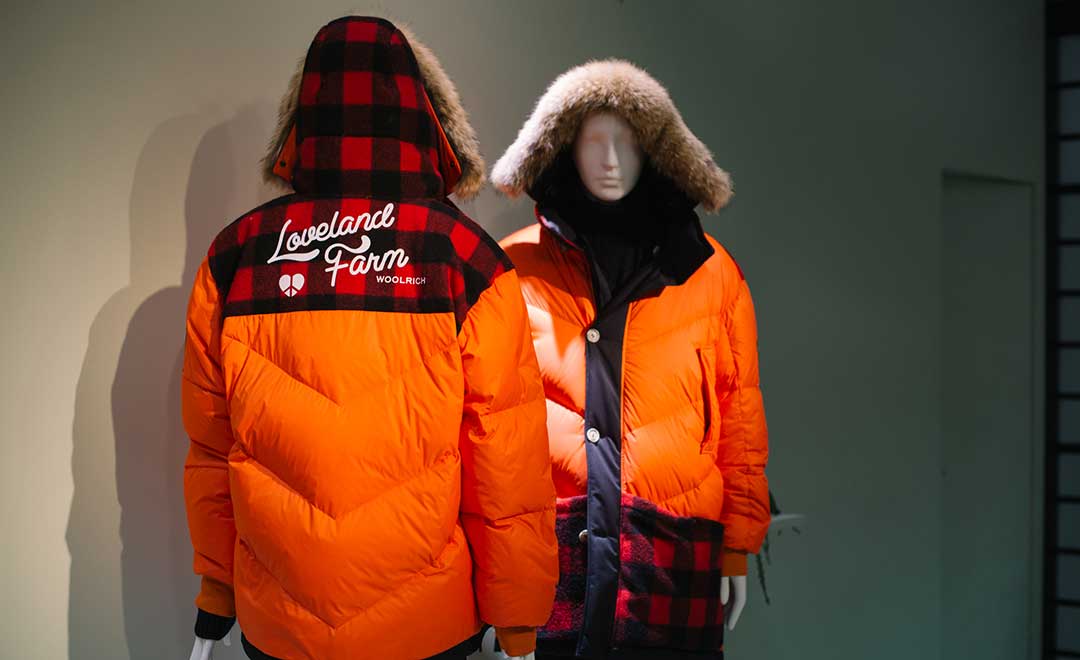 Innovative design at Woolrich.
Personalised fashion allows individuals to create their own variations, such as Woolrich's theme of red and black checks in jackets, coats and outfits offered in different combinations, some combining woven fabric with nylon or coated fabric in the same garment. Fabrics with texture, knops, small elements of colour, brushing, felting and mixing fibres gave a large element of choice for fancy jackets and generously cut long wool overcoats in a dark brown or camel colour.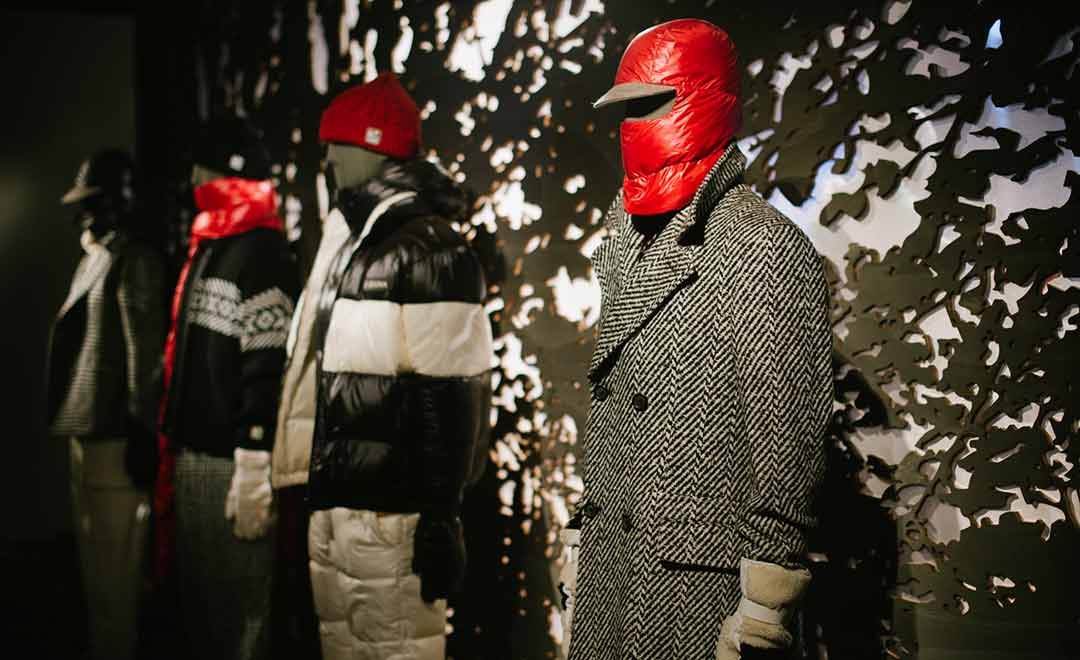 Z Zegna's collection fuses form with function.
Classic menswear took a new look at checks, tweeds and the robust fabrics of traditional country looks - tweeds, lodens, cords and brushed surfaces, coming into city streets, styled up and used in many ways, enlivened with colour, checks and stripes and with added performance for urban travel and cycling. Classic graphic designs both macro and micro, were presented in unlined but well-tailored jackets and suits - at Cantarelli for instance - who also launched a stylish new line named CC, featuring tweedy wool unlined jackets among the coolly casual collections. Z Zegna continued its spectacular fusion of science and the natural, with padded and layered clothes in techno wool and nylons, set in a fairy forest stage set.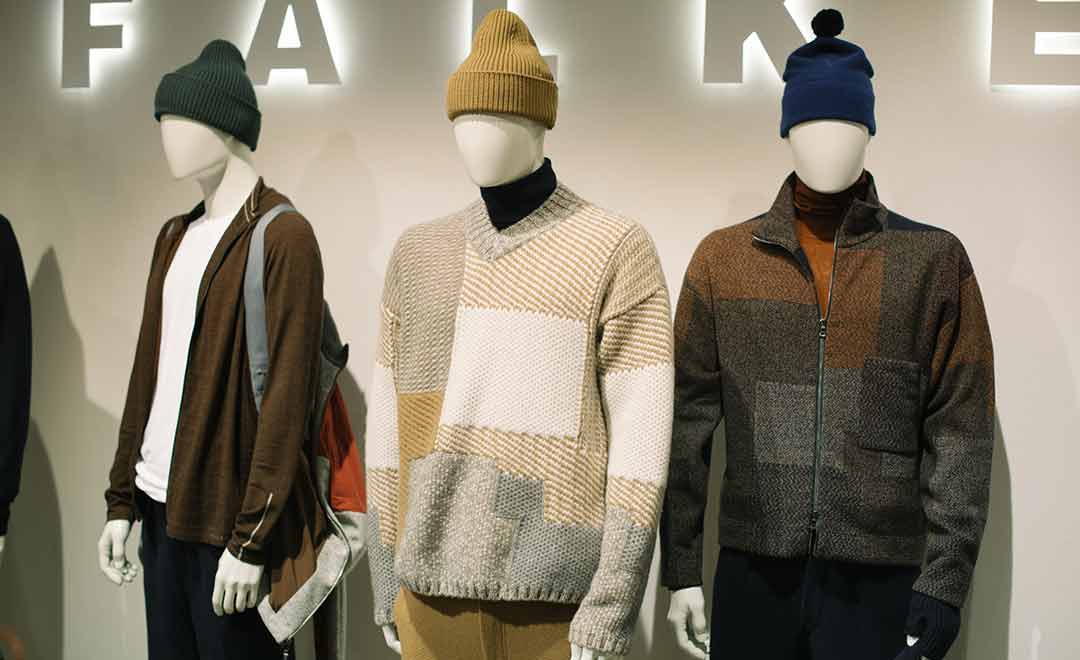 Chunky knits in shades of brown at Falke.
Skinny cut suits, many three-piece, were re-envisaged, some with different fabric designs for jacket and trousers, as at Digel. Colours featured a deep midnight blue, grey and emerging brown tones. Woolly chunky knits included patchwork looks in thicker yarns, long knitted cardigans and sweaters. Knitted lightweight jackets were layered with quilted over-jackets, flannel shirts, knit waistcoats and ribbed hats and scarves.
The increased visitor results which Pitti Uomo 93 achieved were enhanced by many must-go Pitti events. Finland as Guest Nation, had original collections from young Finnish designers, many with tech fabrics, like a striking orange wool jacket by Rolf Ekroth which had a polyurethane coating. All the Finnish designers used complex materials and clean, comfortable lines. Brooks Brothers celebrated 200 years of business with a show at the Palazzo Vecchio.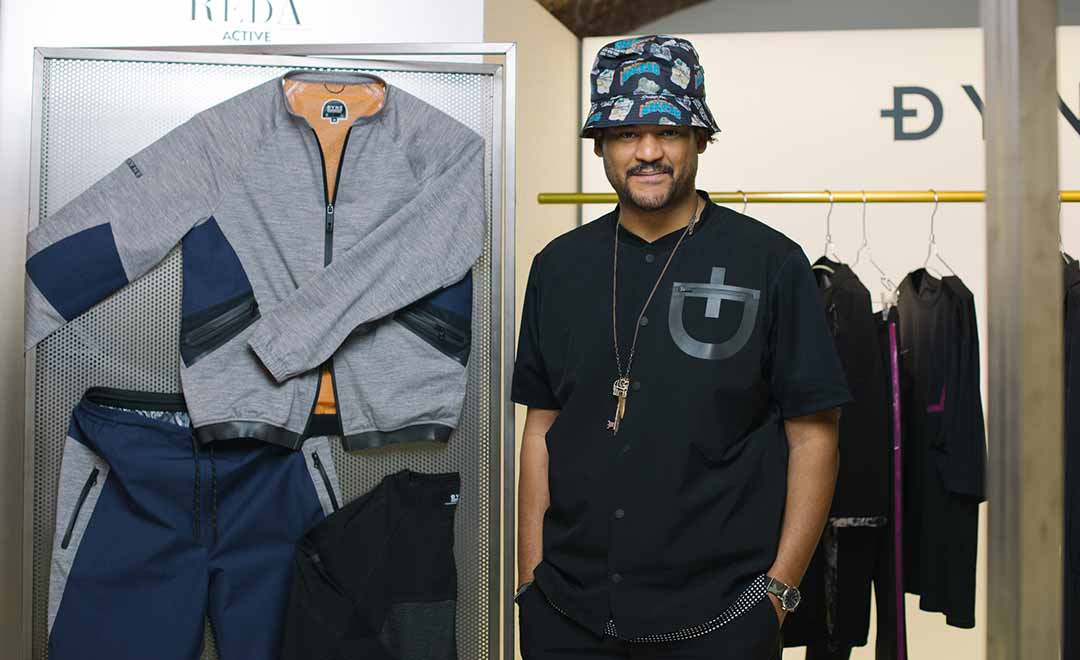 DYNE designer Christopher Bevans with his Reda collaboration.
Iconic Italian wool company Reda was involved in a special Pitti initiative in which a group of high octane designers participated - one of whom, US-based Dyne's Christopher Bevans was also awarded the International Woolmark Prize inaugural Innovation Award. The initiative with Reda threw a new light on the uses and synergy of Merino wool fabrics, including treated fabrics, special laser cutting and use of embedded electronics. Reda CEO Ercole Botto Poala stated his pleasure in the outcome of Pitti's initiative and said the experience of pairing Reda's worsted suiting fabrics with the high-tech designers had proved an inspirational and very successful experience; colour, performance and appearance coming together, showing the potential of design and imagination.
The International Woolmark Prize global finals was also staged during Pitti Uomo, at a star-studded event held at Stazione Leopolda. Technique and originality marked out the winners which were awarded for Innovation, Womenswear and Menswear and saw 12 finalists with 24 outfits on stage. These qualities were reflected across the piece at the show, as the most talked-about collections did amazing things with colourful patterned and textured fabrics, putting disparate garments together for eye-catching and attractive collections.