---
The bond between fashion and science continues to grow, as Janet Prescott discovers at Pitti Uomo 94. Design, colour, science and a conscience about the future of the world's oceans and wild places all came together in a vibrant display of men's fashion in Florence at the 94th edition of Pitti Immagine Uomo. Merino wool ticked many of these boxes for key designers, fashion movers and textile industry shakers, with movement to substitute natural materials and minimise plastics in all forms, with an impetus from end-use customers in many countries.
The response could be seen in the launch of new luxury collections such as Sease, the offering from young designers from guest nation Georgia, and the collections of first-time exhibitors from the UK.
Developers emphasised and enhanced natural fibres' comfort, performance and above all, sustainability. Wool is recognised as having proven advantages and enormous advances in fabric technology to efficiently regulate the body's climate.

The washable wool suit is a fashion reality: the ultimate travel suit, machine washed and dried ready to be worn in the blink of an eye, as shown in a video of the laundering of a Merino suit at the Tombolini stand, an amusing tongue-in-cheek take on the old Levis ad, watched by many.

The MINI FASHION FIELD NOTES Capsule Collection, a special collaboration between MINI and The Woolmark Company, took design features of the 1960s' Mini branding to inspire outfits based on travel, designed in Merino wool by four emerging international designers: Liam Hodges, UK; Staffonly, China; PH5, USA; and Rike Feurstein, Germany. They drew the crowds on an outdoor stage in the colourful atmosphere which prevailed at this Pitti Uomo.

Reda presented the revolutionary biodegradable lining they have developed for wool suits, following on from the enormous research put into Reda Active performance wool fabrics. Named Reda Active Lifeproof, the new degradable polymer layer ensures the sustainable nature of the whole outfit, marking a significant step forward, as explained by Reda's Ercole Botto Poala: "This was developed, tested and manufactured completely in our factory in Valle Mosso. Reda conducts a constant search for excellence, in the long tradition of Biella. It's the continuing development of an environmentally friendly product to combine technology and sustainability in a single wool fabric, further increasing its functionality."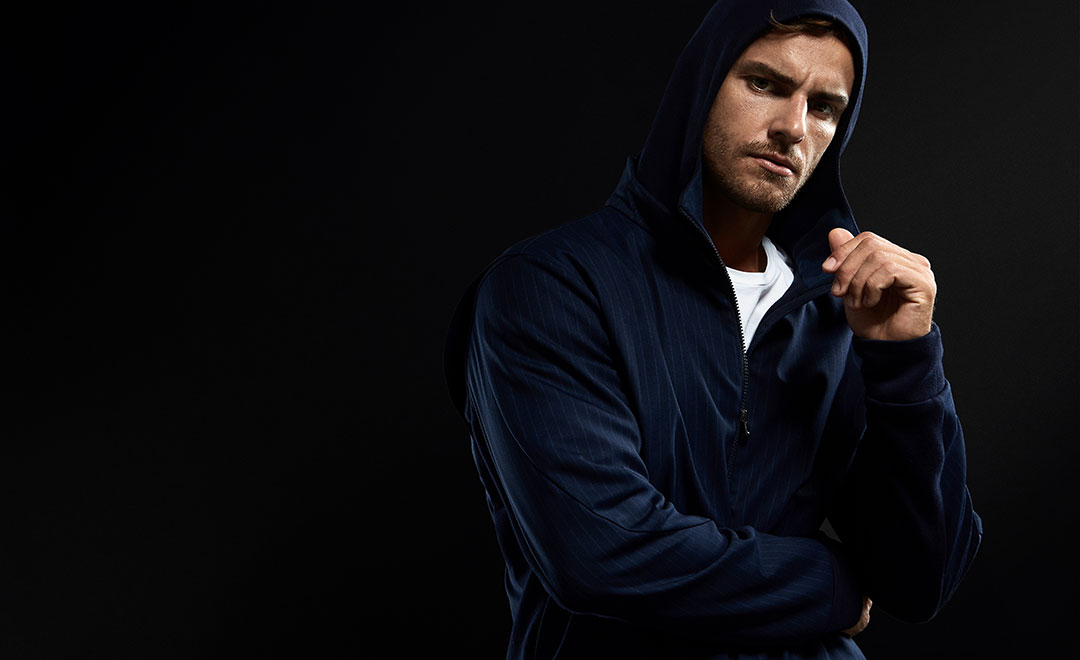 Chalkstripe Fine Wool Tailored Hooded Sweatshirt; fine wool tailored hooded sweatshirt in sunrise - a blend of 70% wool and 30% bio-based nylon. (Top image) PHOTOS: SEASE
The high-profile launch of Sease at Pitti Uomo, the company started by two Loro Piana brothers - Franco and Giacomo Loro Piana - took quality eco fabrics - wool and bio-based nylon - to a young, sophisticated audience. Using techno qualities, Sease presents a solution for on-trend sports capsule designs, combining ultra-performance with design and sustainability; for example, a base-layer from superfine wool with warm knits and a three-layer wool shell for skiwear.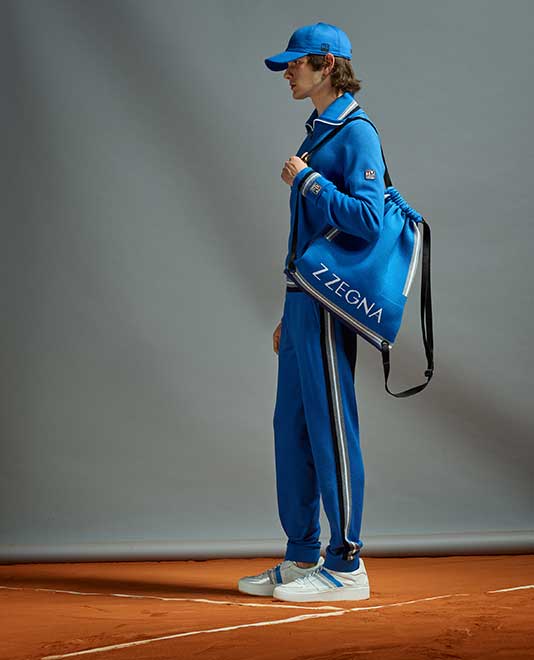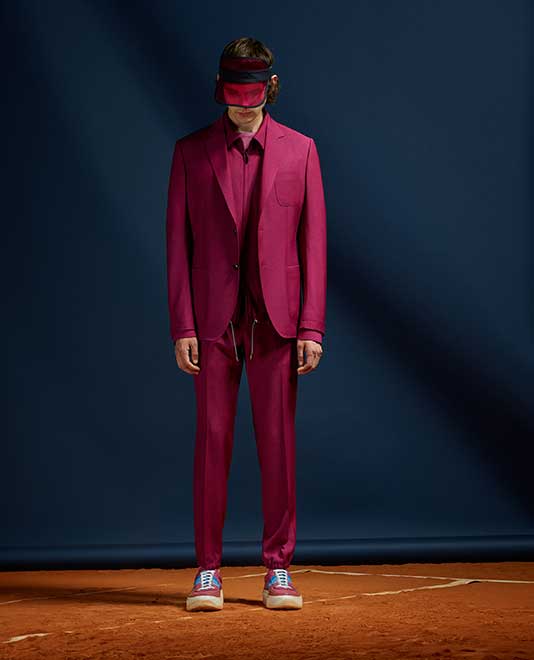 (Left) Z Zegna's Techmerino TM fashioned as a Wash&Go summer suit as well as more traditional sportswear apparel. PHOTOS: Ermenegildo Zegna. (Right) Z Zegna's Techmerino TM fashioned as a Wash&Go summer suit as well as more traditional sportswear apparel. PHOTOS: Ermenegildo Zegna.
Z Zegna with TechmerinoTM staged a tennis match with life-size mannequins to show the power and versatility of lightweight, stretchy performance designs, using wool in various guises for players, spectators and the umpire, ranging from TechmerinoTM suits to athleisure, through to fully functional professional activewear. What's of particular interest is the TechmerinoTM Wash&Go suit - summer suiting that can be domestically machine washed while maintaining its comfort, performance and naturally casual fit. Lightweight and extremely soft, it offers unrestrained freedom and breathability with the added benefit of easy maintenance.
Summer knitwear was colourful, with many designs in very fine micron wool, some using new techniques such as seamless styles at Falke, or 3D printed structures, while Intarsia Argyle diamonds were made a single strip motif at Pringle.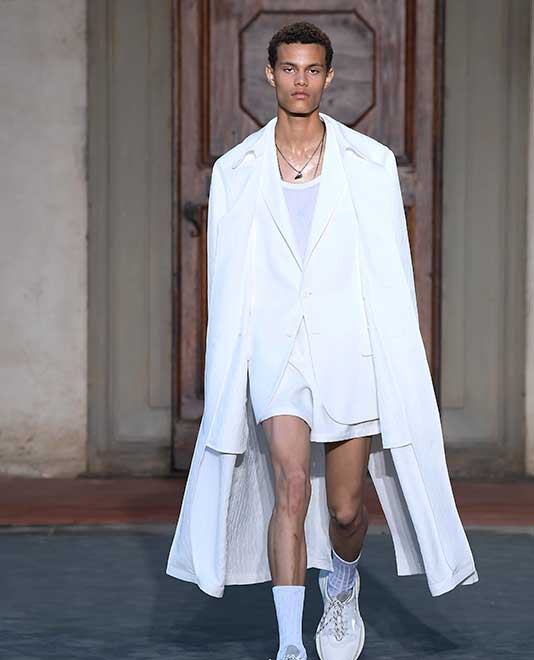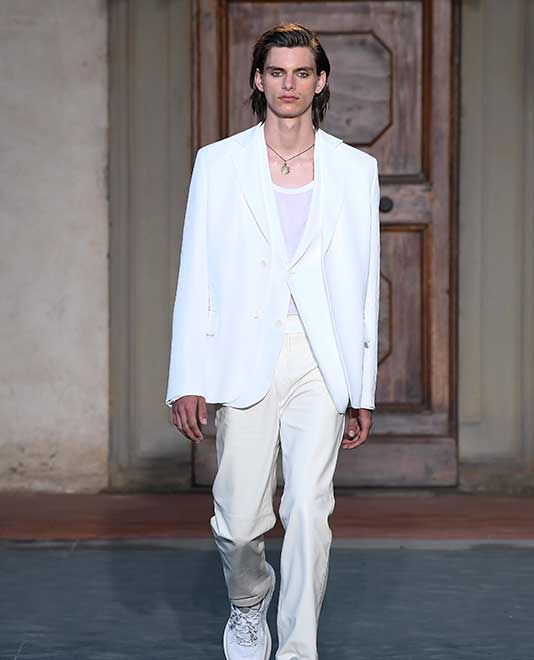 White on white by special guest Roberto Cavalli. Photos: Giovanni Giannoni.
Although colour dominated both the exhibition and the runways, white was also a winner. The hot-ticket catwalk show in the Tuscan Hills, at Certosa di Firenze, by the renowned Roberto Cavalli, saw a wide selection of white outfits as well as all-over prints, as evidenced by the menswear guest designer, Craig Green.
Traditional tailoring sections, notably Italian and British design brands, branched out with unlined, lightweight wool jackets, often in oversize trad designs, huge checks and wide chalk stripes, put with brightly printed accessories, perhaps tempting millennials into suits and bringing a touch of Carnaby Street to Italy.